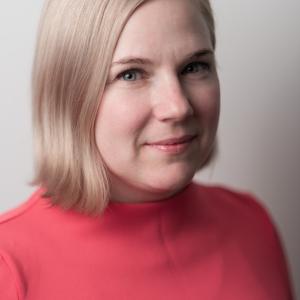 Theresa Slater
Artist member since 2020
Toronto, Ontario
In life and work, I have always chosen philosophy and art. I started with art school, building competencies in a variety of materials (mixed media, printmaking, installation, and small object design). Then, I studied applied ethics and analytical philosophy at the University of Victoria, while maintaining a prolific painting practice and exhibition schedule. I became interested in technology and new media art work through my administrative employment at an engineering firm, and decided to pursue an MA in Contemporary Art, Design, and New Media Art Histories at OCAD University. My thesis explored the sensual alterity of digital objects; yes, it's impenetrable but an original feminist contribution to digital bodies nonetheless. Currently, I am driven to articulate the symbols of humanity and technology as coalescent within abundant nature. Simply, I paint figures in landscapes. I aim to demonstrate human's capacity for mimesis, confluence, intersectionality, and mutation. My educational trajectory has been useful in reconciling the politics of aestheticism, the frailties of representation, and the rejection of objectivity (all important fodder for contemporary art practice). My internal motivation is simple; I paint because it provides sensual and intellectual pleasure. The artworks I develop are intended to be material demonstrations that allow audiences to envision a desirable and democratic future where society and technology are closely entwined to liberate all people; in a manner that is just, balanced, and ecological.
---
Best season of the year in Toronto
Covid 19 season and spring
Beverage of choice
Fun fact: I actually love talking about wine. I have a really creative palette, just like my paintings.
Describe the person your work appeals to in 3 words
curious, mimetic, cheeky
Why is it important for people to have art in their home or life?
Art impacts the living, and when you live in proximity to material demonstration of art, you are enriched. Art allows one to envision desirable futures for themselves and community. Painting at it's best is sensual and simple; enjoy it's pleasures and harmonies. It's important to meditate on artworks in your home to find peace and meaning. Its value in a home is a financial benefit, too.
Favourite medium
So, I've always been multi-media. Oil is my preferred medium in its luxurious light bending magic and history. Acrylic is just a real challenge, has no back bone but I get away with it. It's a bit messier and clumsy. I recently got an iPad and have been living my best life on Procreate. Producing digital illustrations is contending with the leading oil media for the title. I don't have a studio where I could use oil, but I pray for one.
I'm really good at making (a) ...
a comfortable space where models can be naked and liberated in front of the lens or easel. I look forward to being able to work with live models again soon!
What do you mean, "try"?
Try-before-you-buy with a 3 month rental. 100% of your rental payments go towards the purchase (interest free). Message the artist directly, and start the conversation.
---
Art made (truly) affordable
We make it easy for you to try art with smart payment plans and try-before-you-buy models.
See How It Works
---
You're covered.
Artwork protection is included on all art rentals up to $5K. Our Customer Care team is always here to help.
Contact Us
---
Unlock Trade Access
For industries including interior design, film/TV production, & real estate staging: rent original pieces that fit with your project vision, budget and timeline.
Apply for Trade Access
---
1% from every transaction goes towards a registered Canadian arts charity.